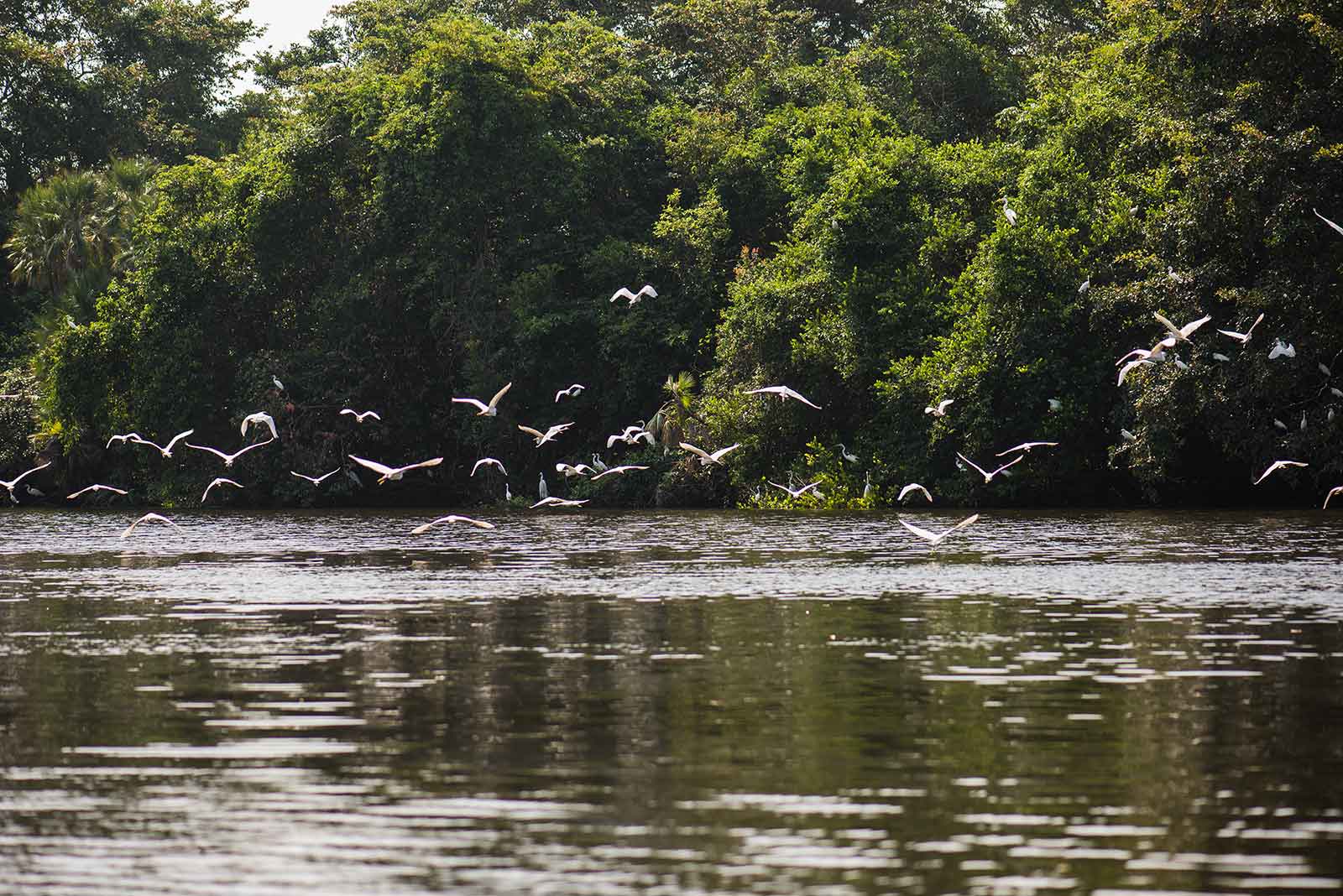 Located just about an hour's drive northwest of bustling Belize City, Orange Walk Town is located in the heart of the fertile agricultural region of Belize. Affectionally nicknamed "Sugar City" for its bustling sugar cane processing factories, Orange Walk Town has recently diversified to become one of the leading eco-tourism destinations in Belize. While Orange Walk Town features a small but lively entertainment district, just a short distance away are some of the best birdwatching areas in Belize as the diverse ecosystem is home to hundreds of bird species, including the rare Yucatan nightjar and long-tailed hermit hummingbird.
Visiting Orange Walk
The town of Orange Walk, with about 14,000 residents, is small enough to easily get around on foot. In the morning, visitors can snack on the local delicacy of breakfast tacos, sold from roving vendors. The Fort Cairns market in town offers a wide variety of local foods with recipes inspired by the different indigenous populations of Belize. Cafes, banks, excellent Chinese restaurants, and the Banquitas House of Culture will occupy you in town, but when you're ready for more adventure, head upriver to the landmark site of Lamanai, once an important city in the ancient Mayan empire. From a local word meaning "submerged crocodile," Lamanai is an extensive site featuring four grand plazas and half a dozen temples that tower above the jungle canopy. The largest temple of them all, the High Temple, is accessible to visitors who have no fear of heights.
Guided tours to Lamanai head up the New River, giving visitors a chance to spot spider monkeys, fruit bats, crocodiles, and hundreds of species of birds in their natural habitat. Another popular nearby destination is Honey Camp Lagoon where locals and international visitors alike can frolic on the beach underneath the branches of coconut trees. Back in town, there's an active nightlife scene with several bars offering unique cocktails and plenty of live music.
Orange Walk Accommodations
Located on the scenic banks of the New River, El Gran Mestizo offers excellent accommodations at reasonable prices. Designed with a rustic, homey feel, the cabins of El Mestizo come with all modern accouterments, including air-conditioning, free Wi-Fi, and cable TV. With an award-winning on-site restaurant and close access to the historic Mayan site of Lamanai and Orange Walk Town, El Mestizo is the destination of choice for visitors exploring the Orange Walk District.